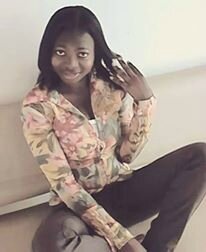 Adongo turning his kebab sticks on fire, the smoke entered his eyes as he sweated in the process, a customer walked to him and requested.
Customer: how much is the meat closer to the gizzard?
Adongo: this one?
Customer: no...why are your eyes not good? I said the one there, closer to the gizzard.
Adongo: Sorry, sorry. Boss make I wrap am?
Customer: No..handle it over to me in my bare hands..what Nonsense!
Adongo: sorry boss, no vex..some eat am for here that's why I dey ask you.
The customer paid for the kebab using his left hand. A young beautiful lady approached the customer from behind . She looked gorgeous and one could obviously tell she is well educated. The customer who was about leaving, saw the lady. He quickly paused and stroke a conversation with her;
Customer: Hi pretty! Oh let me release you of this load. A beautiful lady like you need not stress herself.
She carried a bag that contains her provisions. She released it to him.
Lady: Thank you
Customer turns to Adongo
Customer: Would you please hurry? Sell the meat to the lady! She shouldn't stand for too long. Didn't you hear me? I said hurry and make sure it's served well.
Adongo: No, she no go buy anything.
Customer: If she is not buying, what then would she be doing here? Oh illiteracy is truly a disease!
Adongo: No...she bi my daughter
Customer: what?
He looked at the lady and she said;
Lady: Yes that's my beloved father. I love him more than anything in this world. He sacrificed his life to make me who I am today at the expense of his enjoyment. I am his treasure and his investment.
The customer buried his face in shame. He looked remorseful.
WHAT ARE SOME OF THE MORAL LESSONS IN THIS STORY???.
By Chosen